Man Orders Food In Chennai, Swiggy Picks It Up From A Restaurant In Rajasthan!
Food delivery portals often bear the brunt of sending incorrect or delayed orders, and they do their best to minimise such incidents and keep their customers happy. But, this time good customer service has been taken a bit too far as Swiggy tried to deliver a food order from Rajasthan to Chennai! No kidding.
A Twitter user named Bhargav Rajan tweeted a picture showing that a person ordered food from a restaurant nearby but Swiggy detected it as being ordered from an eatery in Rajasthan.
FYI, the order was just for Rs 138!
When the user posted the image on Twitter, Swiggy commented on the post saying 'We'll fly to the moon and back for our customers'. They also said they'd look into the matter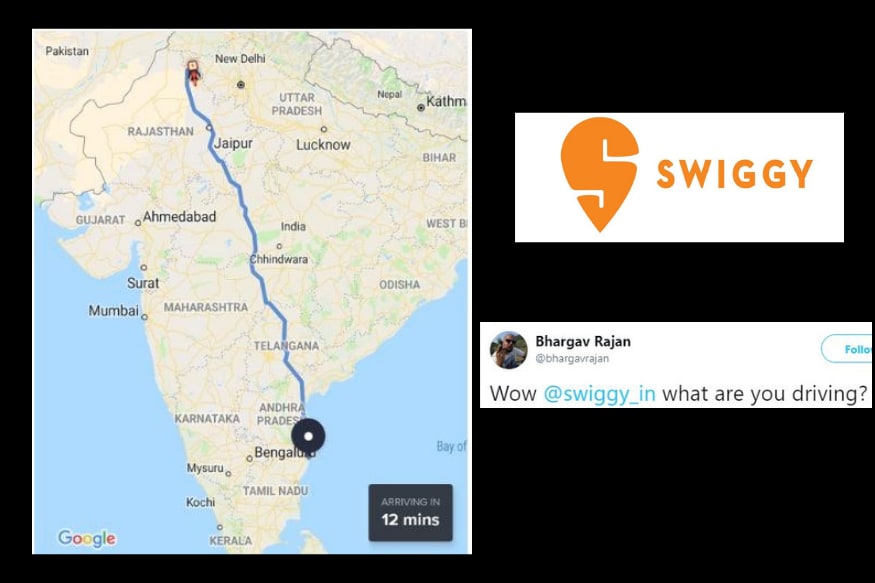 However, the post is really funny but according to Swiggy this was one of the Google map glitches in which the customer care service of Swiggy responded humorously.
Whatever is the thing, it is very funny to look at the picture of the map that shows the order from Rajasthan to Chennai! Well, however good they might be with deliveries, this might take some time.
Source:- indiatimes