PM Kisan Yojana: IMPORTANT update for beneficiaries – check details here
PM Kisan Samman Nidhi Yojana: Important update for PM Kisan scheme holders. Now, the Pradhan Mantri Kisan Samman Nidhi Yojana beneficiaries can check their status online through the PM-Kisan mobile app too.
On May 14, the government started transferring Rs 2000 to farmers' accounts under the PM Kisan Samman Nidhi Yojana (PM-KSNY). PM Modi released the eighth installment of over Rs 20,000 crore to more than 9.5 crore farmers of the country via videoconferencing.
Check status through PM-Kisan mobile app
To check their status digitally, the farmers can download the PM-Kisan mobile app. For more details and information, the farmer-beneficiaries under the PM-Kisan scheme can login to the official website of PM- Kisan at pmkisan.gov.in.
Recently, Digital India on Twitter informed that the beneficiaries under the scheme can check their status via the PM-Kisan mobile app too. The tweet said, "All the farmer beneficiaries under #PMKISAN scheme can now check their status digitally through the PM-KISAN mobile app too. The scheme released over 20,000 crore to over 9.5 crore farmers through its 8th installment. To know more, visit pmkisan.gov.in."
The PM-Kisan mobile app is available to download for Android devices from the Google Play store.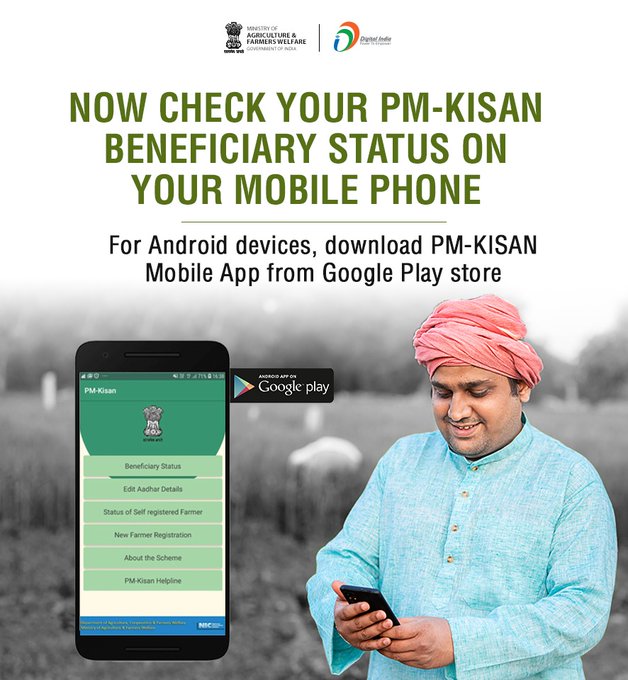 What is PM-Kisan Samman Nidhi Yojana?
This financial assistance from the government to farmers comes in three instalments of Rs 2000. Under the scheme, the first installment of Rs 2000 comes from April 1 to July 31, the second installment comes between August 1 and November 30 and the third installment from December 1 to March 31.
This annual financial support is given to farmers having combined land holding/ownership of up to 2 hectares. Since its inception in December 2018, the government has given seven installments to these farmers. The Central government's Rs 75,000-crore scheme aims to cover 125 million farmers, irrespective of the size of their landholding in the country.
Documents required to register for PM-Kisan Samman Nidhi Yojana:
Aadhaar Card
Citizenship certificate
Landholding papers
Bank account details
Source:-dnaindia