The 100 Best Movies on Netflix (June 2018)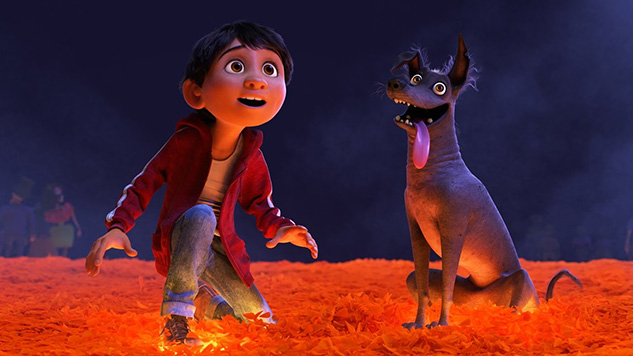 The best movies on Netflix right now are not always the easiest to find, titles coming and going with sometimes seemingly little rhyme or reason (both City of God and Wet Hot American Summer disappeared seemingly meaninglessly, only to return with an equal lack of fanfare). Rather than spending your time scrolling through categories, trying to track down the perfect film to watch, we've done our best to make it easy for you at Paste by updating our Best Movies to watch on Netflix list each month with new additions and overlooked gems alike, bringing you our favorites from across genres: Oscar-winning dramas, independent and art-house films, action blockbusters, documentaries, comedies, sci-fi flicks and animated movies for both kids and adults. Though its classics are still drastically dwindling (later, Metropolis) and interesting new fare always checking out (sorry nobody probably watched you, Miguel Gomes's Arabian Nights trilogy), Netflix has a heaping handful of our 50 Best Movies of 2016 and 2017 available to stream on demand, along with some of this past year's great documentaries and horror movies.
For extensive guides to the best movies on other platforms like HBO, Amazon Prime, Hulu, Showtime, Redbox, On Demand, YouTube, Shudder and The Best Movies in Theaters, visit the Paste Movie Guides.
Here are the 100 best movies streaming on Netflix in May 2018: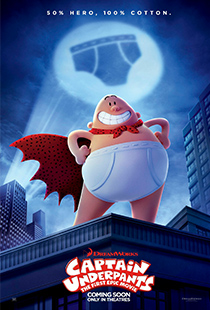 100. Captain Underpants: The First Epic Movie
Year: 2017
Director: David Soren
Most superheroes look like they're wearing their underwear on the outside of their clothes. What this movie gleefully presupposes is: Maybe one can. The presumptuously titled Captain Underpants: The First Epic Movie, based on Dav Pilkey's first four children's books in the Captain Underpants series (all of which have amusingly lengthy titles themselves), pokes a lot of fun at the concept of superheroes, the concept of action movies and the very cinematic medium in which it's found itself. Created accidentally by prankster elementary schoolers George Beard (Kevin Hart) and Harold Hutchins (Thomas Middleditch), Captain Underpants provides a harmless bit of antagonizing to his alter-ego, principal/despot Mr. Krupp (Ed Helms). Krupp hates the two boys and their antics so much that he threatens to end their friendship, so, after going through the requisite whoopee cushions and joy buzzers, the boys discover it's finally a cereal box hypnosis ring they can use to strike back against their cruel taskmaster. When the boys snap their fingers, Krupp loses his toupee, attitude and clothing to become their own comic book creation: Captain Underpants. Krupp finds earnestness and confidence as the near-nude crimefighter enamored with his own (made-up) legend. The movie looks very different from what you may expect from Dreamworks animation: Mikros Image, the animation company behind The Little Prince, gives this parodic world a soft, matte roundness that's as inviting for kids as its lowbrow jokes sound. Likewise, Hart and Middleditch have ample opportunity to sell ridiculous lines, break the fourth wall and generally have a ball without getting bogged down or restrained by Dreamworks' typical reference-heavy humor. It may be in the gutter, but Captain Underpants is as buoyant a film as the studio has made in years. —Jacob Oller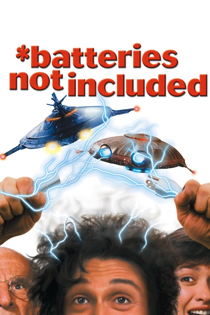 99. *batteries not included
Year: 1987
Director: Matthew Robbins
Old people and aliens partner to fight gentrification for the crowd-pleasing win! Spouses both on and off the screen, Jessica Tandy and Hume Cronyn play a couple who are among the low-income residents of an apartment building at odds with The Man, who goes so far as to hire a local gang to vandalize the couple's downstairs diner and further drive out the tenants. As luck would have it, a pair of friendly flying saucers dubbed "the Fix-Its" are in town, and squat on the top of the building while repairing anything and everything there in miraculous time. Oh, and the UFOs aren't just do-gooding Fix-Its, they're fertile, family-minded Fix-Its at that. Exec produced by Steven Spielberg and co. and with a script co-penned by Brad Bird (his first feature screenplay), *batteries not included is smart and cute, in the best sense of that term—the Fix-Its are positively adorbs. The cast (which also includes Elizabeth Peña) is pitch-perfect, especially the sprightly Cronyn. There's a childlike innocence to the whole thing, and darned if it doesn't charm you. —Amanda Schurr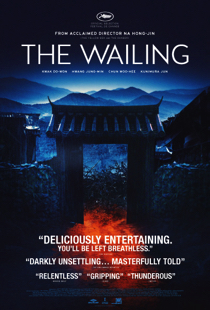 98. The Wailing
Year: 2016
Director: Na Hong-jin
The U.S. title of Na Hong-jin's The Wailing suggests tone more than it does sound. There is wailing to be heard here, and plenty of it, but in two words Na coyly predicts his audience's reaction to the movie's grim tableaus of a county in spiritual strife. Though The Wailingostensibly falls in the "horror" bin, Na trades in doubt and especially despair more than in what we think of as representing the genre. He isn't out to terrify us—he's out to corrode our souls, much in the same way that his protagonist's faith is corroded after being subject to both divine and infernal tests over the course of the film. You may not leave the film scared, but you will leave it scarred, which is by far a more substantive response than naked fear. —Andy Crump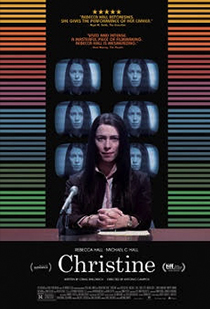 97. Christine
Year: 2016
Director: Antonio Campos
Why did TV journalist Christine Chubbuck take her life on camera in 1974? The brilliance of this Antonio Campos drama is that it tries to answer that question while still respecting the enormity and unknowability of such a violent, tragic act. Rebecca Hall is momentous as Christine, a deeply unhappy woman whose ambition has never matched her talent, and the actress is incredibly sympathetic in the part. As we move closer to Christine's inevitable demise, we come to understand that Christine isn't a morbid whodunit but, rather, a compassionate look at gender inequality and loneliness. —Tim Grierson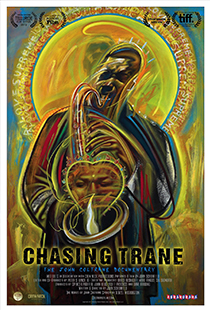 96. Chasing Trane
Year: 2016
Director: John Scheinfeld
Those old and new to John Coltrane will find something to appreciate in this vivid, albeit effusive, tribute to the jazz legend. Family members, former bandmates and famous fans (Kamasi Washington, Wynton Marsalis, John Densmore, Bill Clinton) recount the genius of the sax player's compositions and evolution of his talents, from his Charlie Parker-mimicking early work to his later, freeform experimentation. Devotees shouldn't expect much of a deep dive here on any level; via home movies, archival footage and personal diaries read by Denzel Washington, the film takes a linear, survey-style approach to his North Carolina childhood and drug-addled twenties, two marriages, and quick succumbing to liver cancer in 1967 at only 40. Filmmaker John Scheinfeld dips in and out of the music—too much so, it turns out, and with too little insight into the specifics of his gifts. Still, the overarching salvation Trane found in music resonates with such joy. The sequence about his civil rights opus "Alabama," which took its phrasing cues from the cadence of Dr. Martin Luther King Jr., is a stirring illumination of his creative process. As Coltrane's notes unfold atop King's words, music and speech flow into and out of each other in a still urgent, impassioned release. Elsewhere, the doc looks at the transformative power of Coltrane's faith, his relationships and his legacy with iconic works such as "My Favorite Things" and "A Love Supreme." Midway through the film Dr. Cornel West describes Coltrane as a thermostat, not a thermometer, of the times, an instrument personified that adapted rather than just measured. In its best moments, Chasing Trane succeeds in that as well. —Amanda Schurr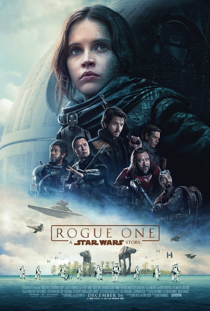 95. Rogue One: A Star Wars Story
Year: 2016
Director: Gareth Edwards
Gareth Edwards' venture into a galaxy far, far away is the Star Warsfilm we never knew we needed. It's a triumphantly thrilling, serious-minded war movie that is incalculably stronger for the fact that it's NOT the first chapter in a new franchise. Rogue One is a complete film in a way that no other Star Wars movie other than A New Hope is capable of being. It doesn't "set the stage" for an inevitable next installment, and its characters are all the realer for the fact that they're not perpetually sheathed in blasterproof Franchise Armor. It is, so help me, a satisfyingly complete story, and I had no idea until I watched the film how refreshing that concept would be. Our protagonist is Jyn Erso (Felicity Jones), a plucky young woman whose brilliant scientist father (Mads Mikkelsen) has been controlled throughout her life by the Empire and coerced into designing superweapons of the moon-sized, planet-killing variety. Forced into a young adulthood on the fringes of the Rebel Alliance, she's assembled a Jack Sparrow-esque rap sheet and, as the film begins, finds herself in Imperial prison on various petty charges. What Rogue One is, most accurately, is what it was sold as all along: a legitimate war movie/commando story, albeit with some familial entanglements. —Jim Vorel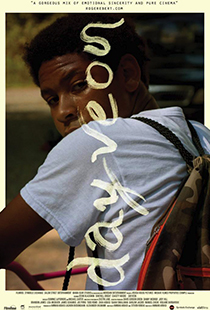 94. Dayveon
Year: 2017
Director: Amman Abbasi
"…stupid house," Dayveon (Devin Blackmon) lists as he rides his bike aimlessly through his rural Arkansas town, beginning the film that bears his name with the kind of flippant cynicism that seems right for a 13-year-old. Dustin Lane's cinematography floats Dayveon in the center of the 4:3 screen, buoyed by a world of humidity. "Stupid tree. Stupid rock. Stupid concrete," he goes on in voiceover, under his breath but fed up. "Stupid people." His cynicism is infectious—not that such cynicism is in short supply in 2017, the kind that's purposeless and broad and generally disgusted with everything. "Everything stupid," Dayveon agrees. In Amman Abbasi's debut, Dayveon has plenty of big reasons to believe that everything is stupid: His older brother was recently killed in gang-related violence and there isn't much of a chance Dayveon will be able to avoid a similar fate, both because he's already facing hazing rituals with the Bloods in town, and because Abbasi reflects the milieu of a young African American male growing up in the impoverished South in tones of unmitigated naturalism shot through with shreds of magical realism. Lane's colors are lushly romantic (red, as one might expect, leaps from practically every frame, surrounded by a thousand verdant shades of green) but loaded with melancholy. All this Abbasi captures in heightened hand-held glory, demonstrating (with the willing, nuanced performances of his non-professional cast) a finely tuned familiarity with more than the people and places of rural Arkansas, but with their everyday struggles with stupidity. —Dom Sinacola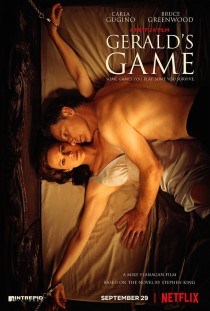 93. Gerald's Game
Year: 2017
Director: Mike Flanagan
Director Mike Flanagan's Gerald's Game trims fat, condenses and slims, stripping away some of the odder quirks of Stephen King's novel to get at the heart of themes underneath. The result is a tense, effective thriller that goes out of its way to highlight two strong actors in an unfettered celebration of their craft. This is nothing new for Flanagan, whose recent output in the horror genre has been commendable. It's hard to overlook some of the recurring themes in his work, beginning with 2011's Absentia and all the way through the wildly imaginative Oculus, Hush and Ouija: Origin of Evil. Every one of these films centers around a strong-willed female lead, as does Gerald's Game. Is this coincidence? Or is the director drawn to stories that reflect the struggle of women to claim independence in their lives by shedding old scars or ghosts, be they literal or figurative? Either way, it made Flanagan an obvious fit for Gerald's Game, an unassuming, overachieving little thriller that is blessed by two performers capable of handling the lion's share of the dramatic challenges it presents. —Jim Vorel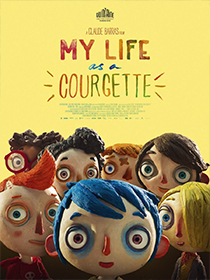 92. My Life as a Zucchini
Year: 2016
Director: Claude Barras
Barras's most impressive feat—besides keeping this animated film under 70 minutes—is how effortlessly he gives the film to Zucchini, never once letting the corruption of the adult world stain My Life as a Zucchini's lively hues and livelier magnanimity. Tonally, Barras struggles in almost every scene, especially when the heaviness of his characters' lives aren't given the seriousness such heaviness demands, and optimism threatens to obfuscate the crimes of the adults whose choices led to these kids' situations so directly. Still, if all Barras is trying to say is that human beings are essentially good—contrary to popular opinion at the moment—then that should be enough. One can't fault a film too harshly for loving its characters too much to watch them suffer needlessly, or fault an artist too adamantly for adopting the indefatigable idealism of a prepubescent with a pointless nickname. —Dom Sinacola…..Read more>>
Source:- pastemagazine