WOW! This credit card has buttons! India's first such card offers PoS, EMI, even reward points options
Really, how would you like it! If you had a credit card that can give you access to a host of features like letting you select an EMI option by just pressing a button. Well, you would be surprised and amazed to know that, IndusInd Bank has taken a big step forward into the tech age when it comes to providing credit cards. The bank has now launched India's first interactive Credit Card with buttons. If you are an IndusInd Bank customer, then you can avail this new card which is called as IndusInd Bank Nexxt Credit Card.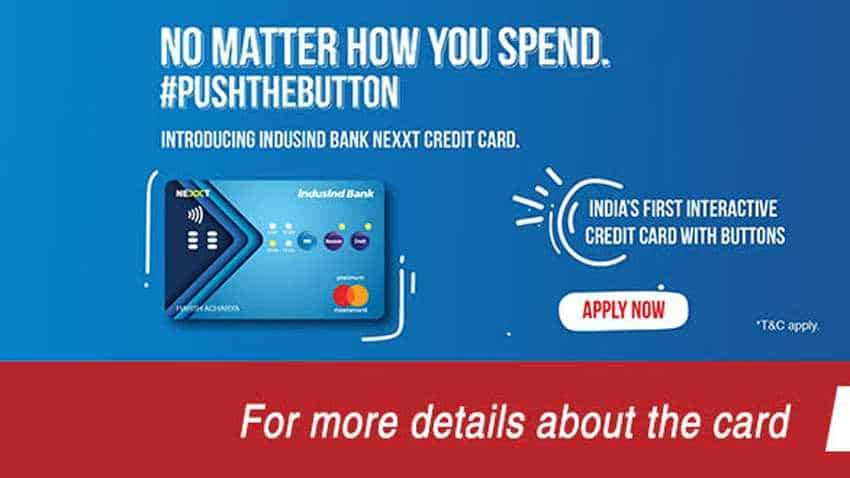 IndusInd Bank Nexxt Credit Card standouts because of its interactive button feature which allows you three benefits. A customer will have a flexibility of three payment options at a Point of Sale (POS) terminal – Credit, Converting Transactions into EMIs with 4 tenure options (6, 12, 18 & 24 months) or using accumulated Reward Points, by simply pushing a button on the card.
Sumant Kathpalia – Head, Consumer Banking at IndusInd Bank said, "We are pleased to announce the launch of the IndusInd Bank Nexxt Credit Card. With this card, our aim is to give the customer multiple options on how to make a payment using his or her Credit Card."
Talking about the card, Porush Singh, Division President, South Asia, MasterCard said, "We are happy to partner with IndusInd Bank to introduce the Nexxt Credit Card, India's first Credit Card with built in dynamic features. Using this card, they can shop, take credit and also use rewards at a merchant terminal, making it the most innovative product till date."
This Card has been created in partnership with Dynamics Inc., which is headquartered in Pittsburgh USA, and designs and manufactures intelligent, battery powered payment cards.
It indicates a customer's desired payment choice using LED lights associated with the three options. A customer does not need to fill any paperwork, or call their bank, or log in to any banking channel to convert their POS transactions into EMIs, or to redeem their Rewards Points.
IndusInd Bank Nexxt Credit Card is loaded with features that will elevate the shopping experience for customers through entertainment offers, concierge services, lounge access, fuel surcharge waiver, reward earnings and reward redemption.
Source:- zeebiz